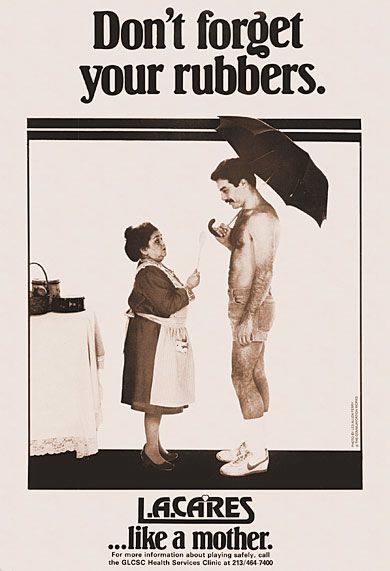 In 1984, before Rock Hudson came out as a gay man with AIDS, actress Zelda Rubinstein was the poster-mother for HIV/AIDS awareness.
Literally. An Los Angeles County AIDS awareness campaign featured her as "mother" in an LA Cares billboard campaign with Rubinsteain warning her Village People-wanna be son, "Don't forget your rubbers" as he made his way into a world where it was "raining men." Those billboards were ubiquitous all over the unincorporated portion of LA County where gays, seniors and renters were campaigning to become the new city of West Hollywood.
Rubinstein was best known as the eccentric spiritual medium Tangina Barrons who played a key minor role in the Steven Spielberg-co-written, co-produced movie Poltergeist in 1982. There was something very comforting about her presence as "mother" during those very difficult times when AIDS was snatching away gay men like the creepy Beast in that film.
And there was something incredibly courageous about a Hollywood actress who got her big role so late in life willing to be associated with the gay plague long before anyone else would – even if it was potentially a career-killer.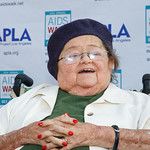 Later, Rubinstein acknowledged that she did "pay a price, career-wise." But that didn't stop her. She attended the first AIDS Project Los Angeles AIDS Walk 25 years ago – and was present for the AIDS Walk anniversary on Oct. 18, as shown in this photo shot by Brian Lowe.
RadarOnline.com reported today that Rubinstein is in Cedars Sinai hospital in Los Angeles and
"is dying and it has been estimated that she has only a short time left to live.

[snip]

RadarOnline.com has learned the sad news that Rubinstein, 76, has been taken off of life support following the failure of two of her major organs.

'Her lungs and kidneys have failed and she's in and out of consciousness," a friend of the actress tells RadarOnline.com. "It's only a matter of time now – she doesn't have long to live.'"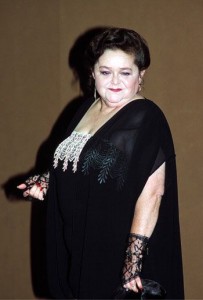 For those of us who looked up at those billboards and chuckled and got the message and think of how comforting she was to so many of our friends – we can only imagine the warm welcoming reception she will receive from all those who gratefully felt her love. Our hearts go out to her friends and family.
Here is a short video to give you some sense of Rubinstein's delightful sense of humor. This was shot at a screening of Poltergeist in Santa Monica, California on June 16, 2007.